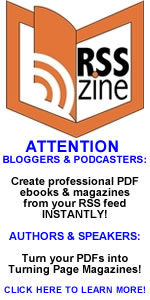 This tool has many different options. You can take your RSS feed from your blog and easily have it turned into a PDF. You can also have a PDF documents turned into flash with turnable (flipable) pages.  There are other tools for converting CD to DVD. The service ranges from $25 to $50 depending on what you are doing.
You can do this all by yourself and have your PDF in minutes!
It reprints the formatted TEXT and images from your blog and podcast posts,
includes LIVE LINKS from every post, and
even includes links to your Podcast media files.
Quick and easy solution for creating yearly or category-based anthologies of posts.
RSSzine does not transcribe your audio or video, it just creates a live link to your podcast media files so they can be clicked and played from within the PDF.
The only thing you MUST have is the URL (link) for your RSS feed and a date range of posts.
Additional options are available, but are not required.
Only $25 for UNLIMITED pages! For more information go to www.rsszine.com
Publish Your Ebook in 10 Different Formats
I just heard about Smashwords.com this is a great service for those who want to publish (free or not) an ebook.  You create an ebook in an RTF format (Rich Text) and upload it into their system and the following systems are created.
Online Reading (HTML)
Online Reading (JavaScript)
Kindle (.mobi)
Epub (open industry format, good for Stanza reader, others)
PDF (good for highly formatted books, or for home printing)
RTF (readable on most word processors)
LRF (for Sony Reader)
Palm Doc (PDB) (for Palm reading devices)
Plain Text (download) (flexible, but lacks much formatting)
Plain Text (view)
How to publish on Smashwords: Smashwords allows an author to upload a single Microsoft Word or .RTF file that we then automatically convert into multiple DRM-free ebook formats. Prior to publishing, you need to read their guide to make sure you have the proper formatting. The service is free and you earn 85% of the sale (with the other 15% going to smashwords.com)
There are other tools such as guides on promoting your book and more. I will definitely be looking into this. The one feature I didn't see was a way to have the purchase happen without sending them to the smahswords website.  For more information go to www.smashwords.com
Podcast: Play in new window | Download | Embed