Let me start by saying I own backupbuddy. I'm not super happy with it (basically I have to pay for it every year – although I can cancel my support). There are tons of plugins to let you backup your wordpress installation (and you should – I've been hacked a few times in the six years I've been using WordPress). When I found out about Backup Creator I am thinking of jumping ship from Backupbuddy. Here are some features that both share: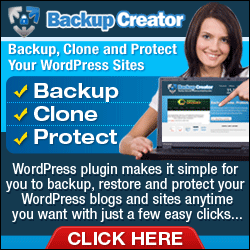 1. Super easy to schedule backups
2. Send you back to your computer, send via email, store via FTP, store to Amazin S3.
3. Backup all files – not just the WordPress database.
4. Both plugins apparently have issues with super large backups (according to some websites I checked, and the fact that mine won't backup).
5. Both have super simple restore steps and make cloaning a website super easy.
Here is Backupbuddy and Backup Creator  differ:
1. Backupbuddy will scan your files for malware
2. Backupcreator costs $47 for unlimted sites (that you own) while backupbuddy is $75 for two sites and has a once year support payment.
Check out the quick 4 minute video of Backupcreator at www.backupcreator.com
Check out backup a webinar about backupbuddy at ithemes.com
Thesis Awesome Takes The Thesis Theme to the Next Level
We've talked about tools to create landing pages before like Optimizepress, and Premise.  We've talked about drag and drop Themes like Builder and Headway themes, and nowI found a tool that seems very powerful for those who are using the Thesis theme for WordPress. This uses the Thesis skins feature and by uploading a few files to your thesis and you can utilize drag and drop technology to create landing pages, coming soon pages, squeeze pages (intergated with Aweber and mailchimp), one time offer pages, launch pages and more. It adds 16 different color schemes, ipad compatability, slide show, with built in call to action buttons.
The documentation was somewhat thin, but then again adding a skin to your blog is pretty easy. You pretty much drag and drop your features into place, save yoru changes and preview your website. If you're not happy, just repeat and add additional features. The best part is the "Product skin" is only $47 at thesisawesome.com
Podcast: Play in new window | Download | Embed
Subscribe: Apple Podcasts | Android | RSS